IFPO MEMBER BUSINESS CARDS
STYLES: (Members Only!)
551A $59.95 Member Freelance Photographer qty=500
551B $59.95 Member Sports Photographer qty=500
551X $59.95 Member OTHER (SPECIFY) qty=500
IFPO MEMBER BUSINESS CARDS
STYLES: (Members Only!)
55UN $59.95 AI News Business Cards qty=500
55USP $59.95 US Press Corps Business Cards qty=500
55GP $59.95 Gold Press Business Cards qty=500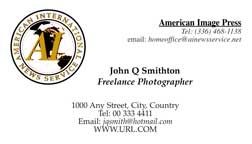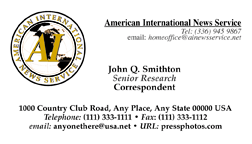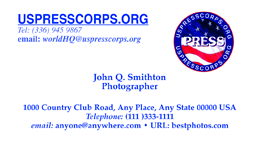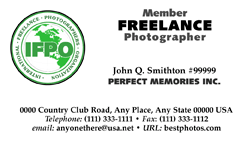 Photographer's Contracts • Forms • Releases
Lifetime Supply • Reproducible Masters
*For individual form pricing, please call 1-800-654-9557
ALL FORMS BELOW
NOT PERSONALIZED
#15MA Forms come with a blank strip at the top of each form to allow space for you to type in or paste-on your own information before you copy them or copy them they way they are.
ALL FORMS BELOW
PERSONALIZED
#15PR Forms come with the IFPO seal in the upper left corner followed by space at the top border of each form for personalization that you specify arranged as in this example.
INDEX LIST OF FORMS
FORMS REORDER INFORMATION
F120 PHOTOGRAPHY JOB CONTRACT
F121 RIGHTS/COMMISSIONS CONTRACT
F140 VIDEOGRAPHY JOB CONTRACT
F141 INSURANCE PHOTO/VIDEO RECORD
F142 WEDDING VIDEOGRAPHY CHECKLIST
F145 PHOTO CONTEST ENTRY FORM pocketform
F146 PHOTO SHOOTING LOG pocketform
F146 PUBLICATION SUBMISSION pocketform
F155 PRESS ASSIGNMENT REQUEST
F156 PRESS ASSIGNMENT RECORD
F126 PORTRAIT PHOTOGRAPHY JOB CONTRACT
F127 PORTRAIT CLIENT INTERVIEW FORM
F128 PHOTOGRAPHY JOB INVOICE
F129 PHOTOGRAPHY JOB ESTIMATE WORKSHEET
F163 MODEL PORTFOLIO CHECKLIST
F164 MODEL INTERVIEW FORM
F165 MODEL PORTFOLIO JOB CONTRACT
F169 WEDDING PHOTOGRAPHY JOB CONTRACT
F170 WEDDING PHOTOGRAPHY CHECKLIST
F171 Full Wedding: People and Places Shooting Plan (1 of 4)
F172 Full Wed.Pre-Ceremony and Ceremony Shooting Plan (2 of 4)
F173 Full Wedding: Post Ceremony Shooting Plan (3 of 4)
F174 Full Wedding: Shooting Appointments Plan (4 of 4)
F191 MODEL RELEASE pocketform
F192 PUBLICATION RELEASE pocketform
F193 PROPERTY RELEASE pocketform
BREAKING NEWS PHOTOGRAPHER'S FORMS
F201 NEWS REPORTER'S LOG & EVALUATION
F202 ACCIDENT REPORT
F203 CLIENT NOTIFICATION FORMS pocketform
F204 QUICK RESPONSE NEWS LOG
F210 HOT NEWS CHECKPOINTS
F211 DAILY ACTION PLANNER
F212 HOT CONTACTS: LOCAL PUBLICATIONS
F213 QUICK RESPONSE PROCESSING LABS
F214 FIELD DIRECTORY NOTES
F220 QUICK STEP PUBLICATION RELEASE pocketform
F221 QUICK STEP MODEL RELEASE pocketform
F222 QUICK STEP PROPERTY RELEASE pocketform
F223 INSTANT NEWS REPORT
F224 RIGHTS TO PUBLISH AGREEMENT
COMPLIMENTARY FORMS:
Copyright Forms from the U.S. Copyright Office are included with our compliments. They include: Short Form and Long Form with instructions.