Do you want to attend a concert, sporting event, or any other type of event as a press? Many events require some form of media credentials to be admitted into the press area. If you're a freelance photographer, it's important to know how to get these valuable assets. Read on for more information about obtaining media credentials. We'll tell you everything you need to know, from who needs them and how often they need to be renewed, to where you can use them. By the end of this post, you'll be an expert on getting press passes! Stay tuned for future posts about the benefits of joining International Freelance Photographers Organization.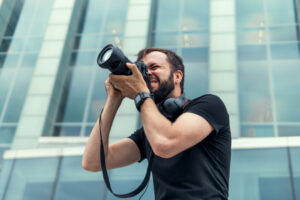 What are Media credentials and Why Do You Need Them?
Media credentials are important documents that provide professional writers and journalists with access to various events. They are typically needed for large-scale events such as international conventions, conferences, sports games, and concerts. Some organizations may also require credentials to acquire specialized information or be invited to other gatherings. While many events may not require media credentials for entry, having one proves a high level of journalistic integrity and serves as an identifier of trustworthiness in more sensitive situations. It's important to reapply as necessary to keep your status active, lest you miss out on exclusive coverage opportunities!
Where Can You Use Media Credentials?
Media credentials are generally accepted anywhere in the world, although there may be regional regulations that restrict certain areas. For example, some international organizations may only grant access to certain countries and regions. The same is true for events like sports games, where you may need a special pass or ticket to get past the security line.
Media credentials provide access to press areas at events and serve as a badge of trustworthiness in sensitive situations and photographers to use their media credential identification once accepted without additional paperwork; whereas international freelance photographers organizations may invite an accredited individual to each one of their events and provide new credentials upon request.
How Often Do You Need to Reapply for Media Credentials, and Can They Be Used for Multiple Events?
As a journalist or freelance photographer, it is essential to stay up to date on the process of obtaining media credentials. Depending on the organization, you may need to reapply for media credentials every year. Many international organizations require applications with updated information yearly, but those in the US often require bi-annual renewals due to different regulations. However, if the credentials are accepted for multiple events, then the frequency varies from case to case. For example, many US outlets allow journalists to use the same credentials for up to three years. On the other hand, international organizations require more frequent updates. Make sure you are aware of the requirements before applying or reapplying for media credentials.
How to Get Credentials from International Freelance Photographers Organization
For a professional freelance photographer, media credentials are an important part of securing access to events. But who can get them and where? One convenient option is applying through the International Freelance Photographers Organization (IFPO), which offers authentication documents that allow access to many different events worldwide. After submitting a portfolio of work and a letter of intent, photographers in good standing with IFPO can receive their credentials quickly. It's recommended that they renew these credentials at least annually before the original expiration date. With proper documentation from IFPO, freelance photographers can more easily make themselves known as authentic professionals, positioning themselves to gain access to various events and furthering their career goals.
What is IFPO? 
In 1984, the IFPO, or International Freelance Photographers Organization, came into existence. Now, after 38 years and more than 90,000 members, IFPO has grown beyond the wildest dreams of its founders while remaining true to its original mission of being the primary source of support for the universe of freelance photographers.  IFPO offers programs that are open to journalists and other media professionals.  Join IFPO 's lifetime membership program to take advantage of our various certified programs. With an IFPO media credential in hand, the sky is the limit!
If you're a freelance photographer, then it's important to know how to get media credentials from the International Freelance Photographers Organization (IFPO). This will allow you to get access to the best events and locations. Media credentials need to be renewed every year, but they can be used for multiple events. Keep these tips in mind when using your media credentials and you'll be sure to get access to the best possible events.
For more information about obtaining credentials from International Freelance Photographers Organization (IFPO), you can visit our website or contact us directly here